Gefilte Swing spreads the word about Yiddish!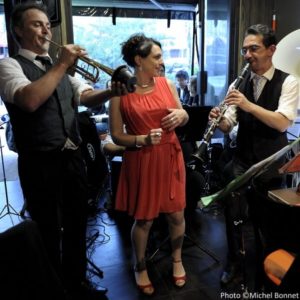 Do you know what "Di Shaynst vi di Zin", a poetic declaration of love, means?
And what about "Ikh Zing"?   There's a very melodic way to find out – come to the Gefilte Swing concert on Saturday April 7th !
The sparkling Klezmer swing group will have the pleasure of playing at the MEDEM, the Paris-based cultural center that promotes a secular and open-minded, approach to Yiddish culture.
An opportunity for the Gefilte Swing Band to play its latest tunes – and an opportunity for to enjoy a sneak preview of their soon-to-be released new CD.
Saturday April 7 at 8:30 pm.  Centre Medem – 52 rue René Boulanger, 75010.  18 euros (non-members), 15 euros (members), 10 euros (students).
Reservations : 01 42 02 17 08 – Métros République (lines 3, 5, 8, 9, 11), Jacques-Bonsergent (line 5)